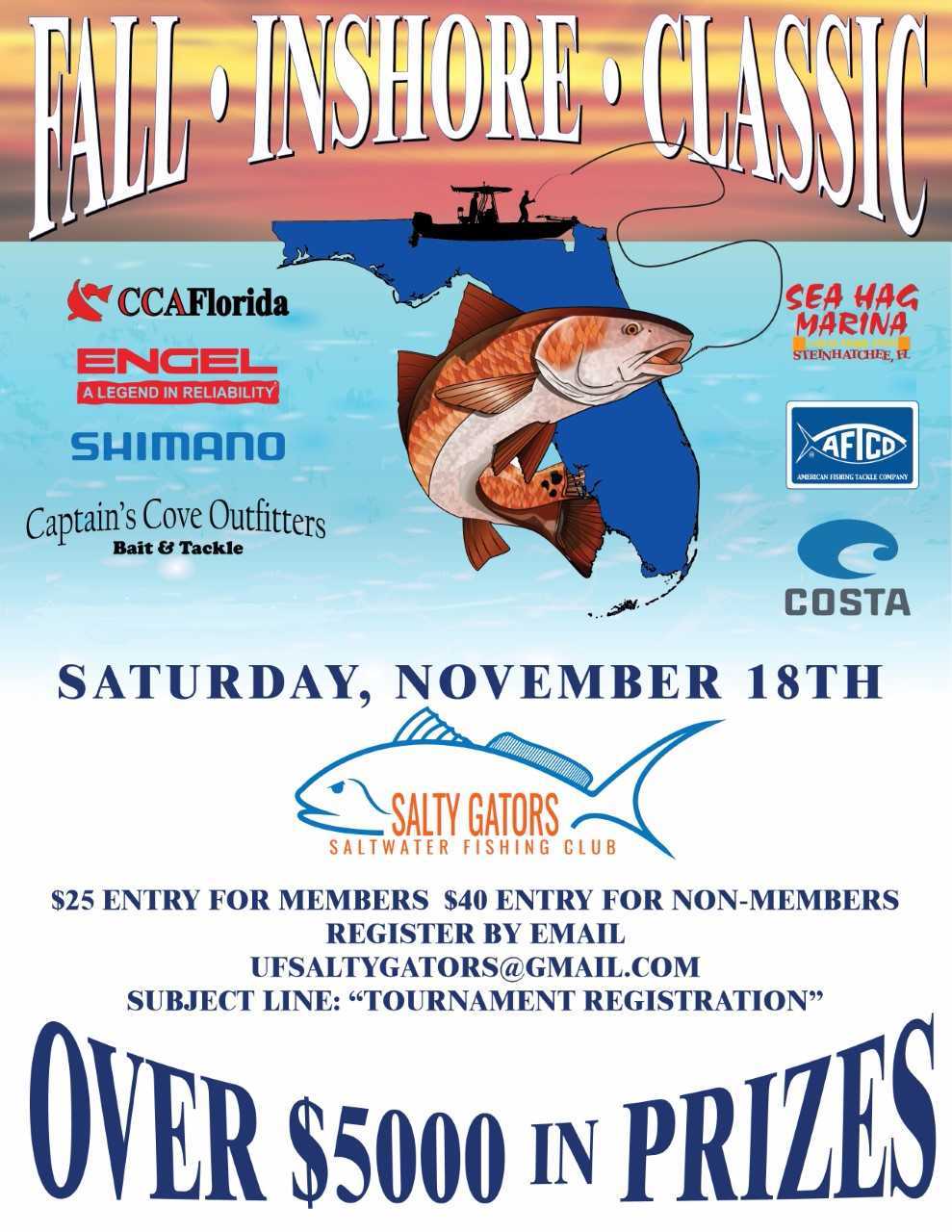 Salty Gators Secures over $5,000 in Prizes for the Fall Inshore Classic
On Saturday, November 18th Salty Gators will be hosting the biggest event of the semester, the Fall Inshore Classic. This photo submission-based tournament will take place all along the Nature Coast with the weigh-in party hosted at Captains Cove Outfitters in Inglis- the official tackle shop of the UF Salty Gators. Thanks to the hard work of a few members and the generous support of our sponsors, the club will be offering over $5,000 in prizes at the weigh-in party! Prizes will include several pairs of Costa sunglasses, an Engel 50 roto molded cooler, an Engel HD30 soft sided cooler, an Engel 30QT cooler/drybox, Shimano rod/reel combos, Costa backpacks, bottles of Black Coral Rum, Costa performance shirts, Engel tumblers, a CCA tackle bag, a full day charter with Capt. Craig Spitznogle, about $1,000 in cash, and tons of shirts, hats, buffs, croakies, koozies, etc. from AFTCO, Costa, Engel, CCA Florida, Shimano, and G Loomis. Even if you don't fish the tournament or end up placing, you can still be eligible for many of these prizes by participating in the raffle at the weigh-in party. All proceeds will help support our program! 
Salty Gators  to be featured on Reel Time Florida Sportsman!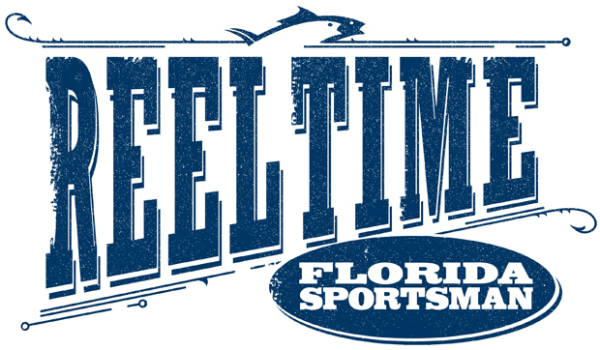 Reel Time Florida Sportsman, one of the most popular fishing shows on the air, will be telling the story of our club  next season! Captain George Gozdz and the Reel Time crew made the trip up to Gainesville this October to fish with some of our members, party with us on gameday, attend a meeting, and capture our story for a new epsiode. It was an incredible experience filming the episode, and we did our best to provide some great content. We won't spoil it, but you can expect some great fishing, beautiful scenery, charismatic personalities, and entertaining college festivities all while learning the story of our history, mission, and values. As far as fishing, we were fortunate to get some great action both offshore and inshore. Back in Gainesville, the gameday atmosphere was incredible and, even though the camera crew left before George broke out his dance moves at the bars, the epsiode should still bring plenty of laughs. For those of you who are familiar with UF campus, you'll enjoy seeing plenty of historic landmarks around campus. The episode will air in April/May 2018 so don't miss it!
Salty Gators Receives Costa del Mar/ Trout Unlimited Annual Grant!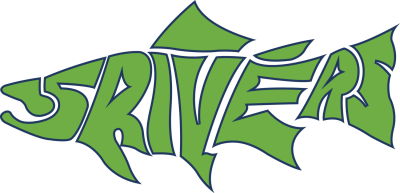 Our club was awarded with one of the highly competitive Costa/TU Collegiate Fishing Club Grants this past month. The grant will be used to fund our upcoming tournament, which will be the biggest event we've had to date. Thank you Costa and TU for your support!
MAKO Spearguns Becomes the Official Spearfishing and Diving Brand of the UF Salty Gators!
Although Salty Gators is considered a fishing club, being under the water is as much a part of our program as being on the water. We work hard to ensure diving and spearfishing are represented in all that we do, whether it be club trips, presentations at meetings, or social media content. However, our spearfishermen/women did not have the sponsor support we currently enjoy for other disciplines of the club. This all changed earlier this month when MAKO Spearguns announced their support of our program, making them the official dive sponsor of the Salty Gators. MAKO's all-encompassing lineup of spearfishing and diving equipment means we now have access to everything we could need under the water, and their top quality products and direct-to-consumer business model allows us to gear up like the pros but on a college student budget! Thanks to MAKO, we have already built up our rental program with the addition of masks, snorkels, fins, dive knives, weight belts, a carbon fiber pole spear, a flasher, a band-making kit, and more! Visit their site at www.makospearguns.com/ to see their full line of products and show your support by making MAKO your official dive brand too!

The Executive Board Meets the Sweetwater T.V. Crew!
This September the Salty Gators executive board had the opportunity to meet Miles Burghoff and Joey Nania of Sweetwater TV during a shoot in Cedar Key. Thanks to an invite from Captain Craig Spitznogle, a major supporter of our club, five lucky members were able to meet the guys and ask all the questions we wanted. We spent over an hour learning about the making of the show, getting tips from the pros, and just swapping fish stories. It was an amazing experience and one we will certainly never forget!
Rental Program Grows with the Support of Sam Gheen and Gheenoe Manufacturing Co. 
Here in Gainesville, we consider our backyard to be the Nature Coast. Whether it be in the mangrove estuaries of Ozello, the muddy and oyster-filled backcountry of Yankeetown, or the crystal clear grass flats of Steinhatchee, our fishing depends on covering ground and running skinny- so skinny that fishing from a low-drafting flats boat isn't usually feasible. However, if you fish like us, you know there are still a few options for a vessel that'll get you to the places you want to go. That's what lead us to reach out to Gheenoe, a desire to build a club fleet designed to explore the seemingly infinite and pristine backcountry that is our backyard. Thanks to the unbelievable generosity of Sam Gheen and the Gheenoe Manufacturing Co. we are proud to announce the establishment of our club fleet with two beautiful 15'4 Gheenoes in custom UF colors. As part of our rental program, these Gheenoes will allow students for years to come  to access places they never thought imaginable and create memories nobody would think possible while attending school at UF.